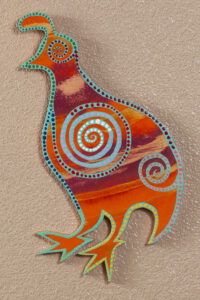 Alexandra Kreslin moved to the USA from Austria in 1994. She fell in love with the Southwest and its sunny weather and colorful, cultural diversity. After moving to Albuquerque, she worked as a personal trainer and in 2017 she finished her degree as a nutritionist. Alexandra was diagnosed with breast cancer in 2015 and received treatments at the New Mexico Cancer Center, as well as surgeries. After her recovery she found a liking to woodwork and has been creating art out of wood since 2019.
Alexandra uses mainly repurposed wood for her art. She believes in recycling and diminishing trash accumulations. The amount of wood that is thrown away is astonishing. Although it would be much easier and time saving to buy wood, she insists on working with reclaimed wood. She spends hours searching for used wood, dismantling pallets, taking out old nails and picking the best and straightest pieces that she can use for her creations. Each piece of wood is carefully planed and sanded until it is perfectly smooth to touch. It is then ready to be turned into unique works of art. The grain and type of wood gives each piece a different look.
Alexandra's trademark is the rustic look. She uses latex paint and sometimes found objects such as old license plates or knobs to adorn her birdhouses and wall art. She incorporates the grain of the wood by sanding the latex paint down to show the wood striations. Alternatively, she might use wood stain for different effects. By finishing her work with a protective clear coat most of her art can be displayed inside as well as outside, as long as the pieces are kept out of the direct sun.
Alexandra loves to work with bright, fluorescent colors which she uses for the base color of the artwork as well as her intricate designs. Almost all of her pieces are New Mexico themed. Her license plate birdhouses are her specialty. They are not just pretty but also functional. Many of her customers have sent her pictures and videos with birds going in and out of the birdhouse building nests.