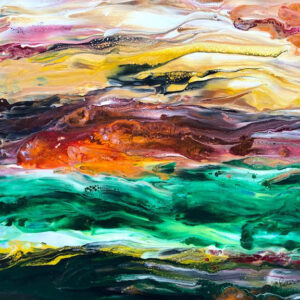 I have spent my life surrounded by New Mexico's rich skies, mountains, and deserts. This has inspired my colorful, abstract, acrylic paintings on canvas.
I am a graduate of the University of New Mexico, a member of the Rio Grande Art Association and the New Mexico Art League, and have studied Chinese splash art with Ming Franz and watercolor with Carol Carpenter. I've been in several Albuquerque juried shows: New Mexico Art League, Masterworks, Encantada, New Mexico State Fair, and Los Griegos and Rio Ranch libraries. I've been active at two galleries: Blue Lily Atelier and Jemez Fine Art.
I taught language for middle school students in Albuquerque Public Schools, and used art as a part of the class assignments. My husband Art and I are grandparents now, and spend summers in the high Jemez country.
Artist Statement
My painting style on canvas follows Po Mo, the art of splashing pigment and water on paper, and dates to China's Tang dynasty. It is traditionally only black and white, but I have added some of the new breathtaking colors in acrylic. I love trying different moves with paint and am constantly looking for new ways to make paintings. I use brushes and palette knives.
I have grown to love making abstracts, and having paint move in every possible way. I have to be very open as to what happens with the color as it moves on canvas. I have found that if I plan too closely the painting will take over and make something completely different…and maybe more exciting. That's okay. I'm doing something by accident that has been a surprise addition to my life as a painter.
The unplanned extra is that family and friends have asked for more. My husband Art is an excellent critic, and the children and grandchildren all have paintings—and extended family and friends! It is just such a simple way to pause and enjoy a day. I truly believe that making and seeing beautiful colors and shapes can help heal. I know it's good for me.