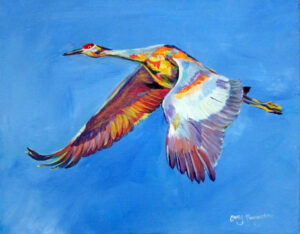 Chris Pennington has a wealth of experience in portraiture, landscape art, and commercial design. Like other driven artists, she says nature is her muse, whether that's in the form of people, animals, or the environment. Her education spans formal classical fine arts and a BFA in graphic design to informal study through travel, experimentation, and collaboration.
From her earliest years, she was fascinated by her surroundings, the colors and shapes and textures she found in nature. When she was old enough to hold a crayon, she began translating what she saw into images that delighted and amazed the people who saw them.
Growing up surrounded by the beauty and artistic culture of New Mexico added to her blossoming art appreciation, inspiring her to try new things and explore styles and techniques. Chris paid close attention to the colorful works of established New Mexico artists Secundino Sandoval, C.J. Buckner, and Lillian Seamans. Later, she developed a deep appreciation for the French impressionist movement inspired by the art of Claude Monet and post-impressionists such as Vincent Van Gogh. And finally, Georgia O'Keefe's rich use of color and exaggerated form captured Chris's imagination.
After nearly three decades in graphic design, Chris has now established her own studio and is able to commit more time to her fine art. She has done commissions and has been juried into prestigious art shows such as Master Works and ¡Encandada!
Artist Statement
I am inspired by the beauty I see all around me. When the light hits an object, be it a tree or a rock or an animal and even sometimes people, exactly right and the colors dance and the joy of life is revealed. I think that the way I see color and want to portray it is all about bending the light. I love color. My palette does not include black or brown because I do not see them in rainbows (bent light). Color is my primary tool to convey the story in an image. It expresses emotion and light and texture. Blending colors leads to depth.