Artist (aka Hauie) Statement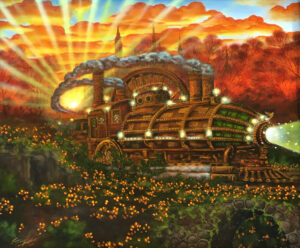 My oil paintings range from disciplined subjects to fanciful fantasy. My influences range from Art Nuevo, Impressionism, Pre-Raphaelite, Sci-Fi, Mythology, Fantasy and my own imagination. I like to pay attention to intricate detail and control of the brush work.
My subject matter ranges from portraits, figurative, architectural, floral and wildlife to far off fantasy lands, fairies, creatures, beasts, dragons, steampunk, aliens and magical realms.
I attended college studying Commercial Arts after which I became a self-taught full-time artist.
I have won many awards for my works and contributions:
2015 Awarded a "Local Treasure" by the AABA.
2010 First place at the State Fair Art Show in Oil Painting.
Over 8 years First Place at the Albuquerque Pride Art Show.
Contributions to: Hispanic Cultural Center, ARCA of New Mexico, VSA of New Mexico and NMAS.