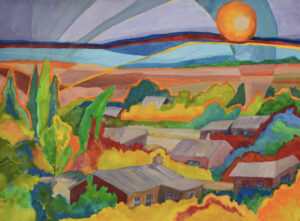 Jacob was born in Albuquerque, New Mexico, where he received his Bachelor and Master of Fine Art and where he lives and works to this day. He studied art education at the Taos Institute of Art, La Romita School of Art in Terni, Italy, Jade Fon Studio in Asilomar, California and the Colorado Institute of Art. He taught art at Albuquerque Public School and has been an artist his entire life.
Artist Statement
My abstract landscapes invite the viewer to observe the interaction of light, color, shape, pattern, and motion. I am interested in creating a sense of action and environmental dram abstracted in the memory of a place and a moment in time, rather than portraying and reproducing a specific place. Each picture is an impression and abstraction involving a synthesis between emotions, memory, and imagination. My landscapes are metaphors expressing emotion through color, shape, pattern, and motion.
Each image evokes a particular mood or emotion, and a sense of drama. The observation of a valley, distant hills or mountains, cliffs or rocks, trees or bushes from above or beyond the viewer is an interweaving collection of interpretive shapes and colors. In my landscapes, objects have been reduced to their essential qualities in shape and color with the omission of particular details. The use of a dramatic color evokes a tense moment in an atmospheric disturbance of an approaching storm, or early morning, dawn or twilight, night or evening, or dusk. In the ancient world, these were mystical times when daily reality, dream time, imagination, and the spiritual world intermingled.
Through the use of brilliant color, interacting objects and shapes, atmospheric disturbance, strange viewing levels create an abstract surreal sensation. This sensation is a metaphor involving the imagination and the dream world. My landscapes invite the viewer to use their minds' eye to experience the mystical world of abstract existence.