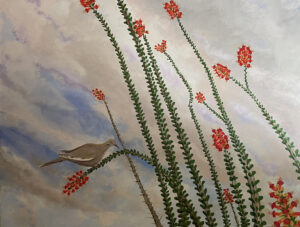 Born in Sioux City, Iowa and raised in Sioux Falls, South Dakota, I received my Bachelor of Science in Studio Art at South Dakota State University and Master of Arts in Education from the University of New Mexico.
In addition to Sioux Falls and Brookings, South Dakota, I have lived in San Diego; the Washington D.C. area; Pueblo, Durango and Colorado Springs Colorado; Bellevue, Washington; and Albuquerque (twice). All three of my kids - Colin, Darcy and Dylan - live here as well.
I taught art at the secondary level for 23 years in Rio Rancho and Albuquerque. Retirement has enabled me to paint, draw or otherwise create art almost every day.
Artist Statement
Although I find it difficult to define artistic and stylistic tendencies in my art, in this body of work, expressing the awe and appreciation I have for the natural world is one unifying result. Many mediums captivate my interest. Here, I have used acrylics on canvas.
All my work contains a small and vulnerable part of me. Even from the vantage point of seven decades, showing my art still produces a sense of exposure. However, showing my work in "Gallery with a Cause" has eased those feelings of vulnerability and replaced them with a sense of purpose in creating art to benefit others.