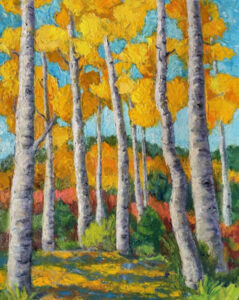 Marian has loved creating art since childhood. She studied at the School of the Art Institute of Chicago, Columbia College, and the University of New Mexico. She became enchanted with the land and people of New Mexico forty-five years ago and has been joyfully painting them ever since. Marian is an award-winning artist and loves painting plein air landscapes and beautifying environments with murals. Marian is a licensed art teacher in New Mexico and is also a Registered Nurse.
Marian started the Art Heals Project in 2013.This outreach project provides art experiences for hospitalized children, especially those with contagious and/or life-threatening illness. Marian has visited over ten thousand children in their hospital rooms with her mobile art cart to offer art activities. Marian believes that artmaking is a healing and life-affirming process.
Artist Statement
I have long been fascinated by the human figure and physiognomy. I have been inspired by many artists over time, including the work of Lavinia Fontana (1552-1614). Rembrandt (1606-1669). Another strong influence is Artemisia Gentileschi, (1593-1653) one of the few women artists to achieve recognition in post-Renaissance art. Contemporary influences include Rose Frantzen, Teresa Oaxaca, and Rob Liberace.
I am passionate about painting the figure and portrait. I focus on capturing the essence of the person I am painting, the special spark that makes him or her unique. Empathy has been an essential component of my weltanschauung, or worldview. It is like a muscle that I use reflexively, putting myself in another's shoes and imagining what they are feeling. I practice imaginative empathy when I make portraits of people.
I also love painting the incredibly beautiful landscape of New Mexico. I enjoy discovering new places in my travels and painting "en plein air" in oils. I try to focus on the beauty in the world and add beauty to the world.