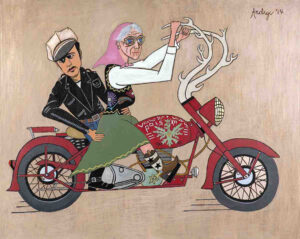 Michael Andryc is a former Santa Fe artist now living in Albuquerque, NM. He moved from his home state of Rhode Island to the American SW in 1970 to escape the winters and the factory life passed down from his four Polish immigrant grandparents. The son of a florist and the youngest of six children, he graduated from RI Junior College and then headed west. The relocation allowed him to pursue creative opportunities he never would have imagined.
In Durango, CO, Andryc exhibited a group of his carvings fashioned after Iroquois healing masks. He then débuted his series "Stations of the Wolf" in Taos, NM, in 1981. With an inheritance from his parents, he bought some land off-the-grid near Pecos, NM, and his young family lived in a tipi for three years while building a small stone house from materials found on the land. As his wife home-schooled their son and daughter, Andryc began painting in their Studebaker, in the outhouse, in the tipi, finding that he could sell his art faster than his fiction. He moved to Santa Fe to exhibit with the Society of Artists and other groups. For the next 28 years, he lived at Westside Studios, happy to paint, show, and support himself with his art, albeit in a rugged fashion. Westside Studios met a sad and flaming demise in 2012 at which time the artists in the compound were forced to shelter and work elsewhere.
Lured by the vibrant art scene and more affordable housing, Andryc moved to Albuquerque. Despite the challenges (or perhaps, because of them), he continues to flourish. Most recently, Andryc exhibited in juried shows at the Albuquerque Museum Foundation's ArtsThrive in 2020 and 2021 and at the 2022 NM State Fair (Professional Artists' Division) taking third-place honors in acrylic painting. In addition to participating in the NMCC's Gallery with a Cause, he looks forward to a 40-year solo retrospective at the Step Up Gallery, Mesa Public Library, in Los Alamos, NM, in 2023.
Artist Statement
I call my painting "Sophisticated Primitive." It is "sophisticated" because of its subject matter and message and "primitive" because my technique usually involves a raw and direct approach, using bold lines and primary color palettes. I am a self-taught, representational and expressionist artist, working primarily in acrylic. For subject matter, I draw from the imagination, dreams, jokes, family history, current or ancient events, famous people and paintings. Titles and narratives play a large part in my work – as do the use of humor, parody, and allusion.
I often refer to my Polish ancestry in my artwork. One of my longest running series, "Selling My Own Grandmother," features one of my Polish grandmothers, Anna Andryc. She serves as an archetype, the Baba Yaga in world cultures, a symbol of the strength, inherent power, and imagination of the Immigrant–American experience. I was fortunate to have a solo exhibition by that title at the American Center for Polish Culture in Washington, DC, in 1997. Her adventures – and misadventures – continue to touch upon the best and worst in the human condition. My earliest influence was my father who was an avid fisherman and storyteller. He shared with me his deep appreciation of artists, writers, and Native American history. My first introduction to art was in the Catholic church where, as a child, I was awe-stricken with its iconography and rituals.
Master artists Chagall, Kahlo, Modigliani, Picasso, Rosseau, Van Gogh, and Warhol have had a huge impact on me as has the work of New Mexico artist, David Bradley, and the anonymous painters of the Yugoslavian Primitive School. As many artists have done throughout time, I learned to paint by doing it and by emulating the masters in my own style with twists and variations to express my visions.