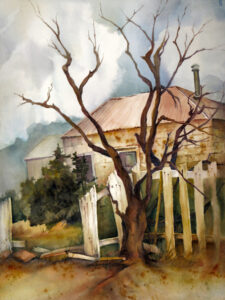 Tina Stallard is currently the Board Chair for New Mexico Watercolor Society and file manager. She started her watercolor journey in high school and as a Fine Arts major at Cal Poly in San Luis Obispo, California. She received a Graphic Design degree through the University of California Berkeley Extension.
She moved to New Mexico 27 years ago and started Young at Art Studios in Corrales, where she teaches drawing, composition, color theory and watercolors. Her students range from ages 10 to 70, and many have won awards for their art, and several have gone on to professional careers in the arts. She delights in helping her students discover the beauty of watercolor and teaching also helps inspire her own work and creativity.
Tina's love of design and color is used in her watercolor paintings where she draws from the natural beauty of New Mexico, plants and creatures in her own garden, natural abstracts, farm animals, and life around her. She is currently experimenting with watercolor and fluid acrylic pours as was done with the painting "Sun God". She has a series of gear and mechanical pours as she loves the spaces the gears create and the graphic nature of their placement. With these paintings she can achieve the amazing color blends this process produces so the total of the painting is interesting.
Artist Statement
Watercolor is like a teenager; you get more of what you want out of it by persuasion. The minute you try to control or force it, the medium becomes stubborn and lifeless. It is defiantly a "Go with the Flow" process. This is what I tell my students when they are working so hard to capture light, shape or detail. I believe that you must let it take its form inside the idea that you have for it. I love that about watercolor and it also frustrates me at times, but if the medium was not like that, I would not get beautiful blends, layers and light it comes up with.
I love to pour watercolors to create my visions because I will always get something fresh and unusual. They are like opening gifts at Christmas, exciting with a fun challenge of being put together. When you pour you must take what you get and create from that. Therefore, the medium is a perfect fit for me. The paintings I create are the essence of everyday things I see around me with the use of design and color. I have learned the most from my mistakes, my mentors, and from my students. I love to introduce students to watercolor because I get to share in the excitement of colors blending across the paper and creating all kinds of surprises. I think it is a lot like living life, it will flow, and you will get surprises, both good and bad, but if you work with it you will get something of unexpected beauty