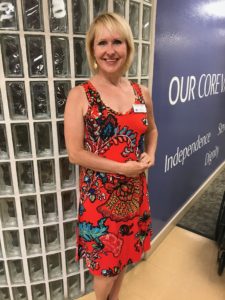 Regina Held was born in Germany and arrived in the United States at 23 years of age. She earned her Bachelor of Fine Art from the University of Texas at Austin, and her Master of Fine Art from the University of New Mexico with an emphasis in printmaking. Having fallen in love with New Mexico, she recognized the need for an open access printmaking studio specializing in Intaglio. With non-toxic etching systems slowly becoming available, she opened New Grounds Print Workshop & Gallery in 1996. It ended up becoming one of the first completely non-toxic professional printmaking studios in the world.
In 2000, Regina moved New Grounds to its current 3000 square foot location in Albuquerque's Nob Hill, allowing her to add a lot more services including an art gallery, reasonable artist membership, diverse printmaking classes, custom printing and framing. She also participated in international gallery fairs exporting New Mexico art all over the world. In 2007 she expanded again to add Matrix Fine Art, a contemporary gallery located in a space next to New Grounds.
After selling both Matrix Fine Art and New Grounds in 2016 – both are still in existence today – she opened her consulting firm Artful Living, specializing in art curation, art consultation, artist mentoring, and professional organization. Since 2016, her main contract has been that of curator for Gallery With A Cause, located inside the New Mexico Cancer Center. Her contract was expanded to that of gallery director in 2020. Regina organizes four major shows a year at the NMCC, each featuring about 400 works of art by 20 artists. Forty percent of all of the sales directly support the non-medical needs of patients.
For 30 years, Held has curated exhibitions for various organizations, private homes and businesses in addition to her own galleries. She has juried many exhibitions. She has won the awards for her contributions to the Albuquerque arts community and is often invited to speak on the topics of printmaking, collecting prints, and the business of art. She is also the author of a book on non-toxic etching, New Grounds – The Handbook on Non-Toxic Printmaking, which continues to sell internationally.