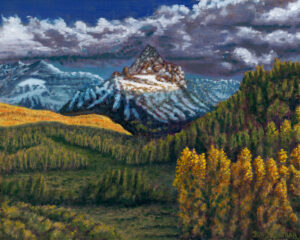 I was born in California, but New Mexico has been my home for the past 35 years. I was involved and exposed to art as a young boy under the tutelage of my parents. In 1968, I travelled to museums and architecture sites throughout Western Europe in preparation for entry into the Fine Arts program at Northern Arizona University in 1970, where I studied all mediums offered until 1977. In 1978, I won first place in drawing at a national art show in Las Vegas Nevada. However, as many artists experience, it can be difficult to raise a family relying only on art sales so I entered the Healthcare field in 1977. In early 1980 I worked as a Respiratory Therapist on a Level I Trauma team in a Phoenix Trauma Center. During this time, I completed my Bachelor Degree in Healthcare Administration. In 1986 I landed a Job as a Director Cardiopulmonary Services in a healthcare system in Albuquerque. While holding that position, I returned to school to complete my Masters in Business Administration while working with the leadership team in the development and start-up of a Regional Heart Center. In 1996, I accepted a Job with another statewide Healthcare system that led to a series of Administrator/Director leadership positions ranging from a Heart Program, to a Surgery Program, and wrapping up my healthcare career in a network of Primary Care & Urgent Care Centers. All during my 30-year healthcare profession, I continued to draw, design, and paint with ink and/or pastels.
In 2005, I lost the vision in one eye due to a series of retinal detachments. This life changing event changed my perspective and drove my focus on getting the most out of the vision I had left in my other eye. When I retired from healthcare in 2012, I focused on restarting my artistic career. While this impairment/challenge has slowed down the pace at which I can produce art, it has made the journey of making art an even more rewarding endeavor.  arts also comes from a personal mission of continuous learning and experiencing how other artists view and graphically depict the world in which we live. Since my return to the art field, I have been accepted into a number of juried shows and studio tours.
Artist Statement
Having lived in the Southwest for most of my life, I have developed a passion for the lighting, beautiful skies and the cultural sites that make this part of the country so unique. I work with oil paint and pastel to create scenes that range from representative to whimsically surreal. I love learning and exploring the different approaches to composition, use of color, light, and the reflection of light in my work. My inspiration comes from the beauty we witness daily as well as how other artist view the world through their art. I attempt to challenge myself to represent my subject in the light that enhances a timeless quality. The more I am able to work with these mediums and concepts, the larger the world becomes.