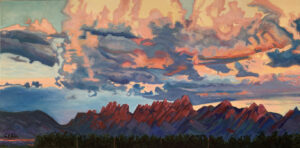 I began taking drawing and painting classes in 2004 at New Mexico State University in Las Cruces and continued doing so until I retired on September 1, 2013, after 25 years as a university faculty member at NMSU. I had a teaching and research position in the Department of Agricultural Economics and Agricultural Business, where I specialized in sustainable and organic agriculture, crop diversification, small farm economics, and food system issues.
In spring 2014, I moved to the Four Corners area and entered my first painting competition, winning a Best of Show and Purchase Award with a landscape painting, in oil, of a large rock formation at sunset, which is now hanging in the Eleventh Judicial District Court building in Aztec, NM. In fall 2016 I moved to Placitas, NM, and began exploring this new region. This is my second NM Cancer Center show, an opportunity I very much appreciate.
Artist Statement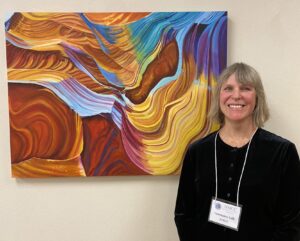 My primary goal as a painter has always been to develop my own vision. I love painting vibrant images that are not typical subjects. In the studio, I tend to paint in many layers. While my landscape work is primarily representational, I have also begun several abstract series that reflect my pure joy for color, and color combinations. I am always striving to make my paintings sing to me, which is when I know that I like them enough to have them seen publically. The 20 landscape paintings in this show span the entire state of NM, since I have lived in Las Cruces, Farmington, and now Placitas, NM, and I have painted scenes of where I have lived and hiked in all three regions.
I particularly enjoy painting different views from the trails where I hike in the northern foothills of the Sandia Mountains, which I can access right out my door in Placitas. In summer 2018 I joined a plein air group in Albuquerque, PALS (Plein Air Landscapers) and learned about many new locations in the region to paint.