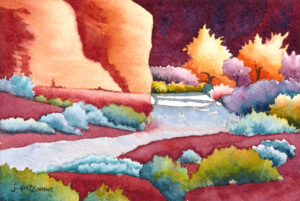 Jane Fritz is an award-winning artist who became hooked on watercolors when she created a painting journal while traveling for ten months with her husband throughout southeast Asia. She studied watercolors at Montana State University, Billings, and with watercolorists including Keiko Tanabe and Michael Reardon. She is a Signature Member of New Mexico Watercolor Society, Watercolor Society of Alabama, Western Colorado Watercolor Society, and Western Federation of Watercolor Societies. She has been the Awards Coordinator for New Mexico Watercolor Society for the past three years, judged and curated the 2020 Splash! Watermedia Exhibit at Gallery 140 in Las Vegas, New Mexico, and judged the ArtBark auction fundraiser in Las Vegas in 2018 and 2019. She co-authors the Plein Air/Fresh Air column in the New Mexico Watercolor Society Brushstrokes Newsletter. She exhibits in state, regional, national and international exhibits, and, having traveled and painted in over twenty countries, she has work in public and private collections in the US and abroad.
Artist Statement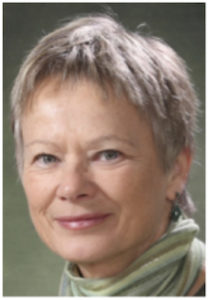 My work focuses on landscapes, wildlife and wildflowers to share my profound sense of peace and awe when I am in the wilderness. My aim is to portray a special place far removed from everyday life.
A pathway of shadows or other guiding lines leads the viewers' attention to a luminous focal area with the most detail and contrast. This center of interest beckons the observers into the painting, and entices them to examine the details or to imagine what lies beyond the horizon.
My hope is that my work will help foster an appreciation for wilderness and nature that encourages people to work toward preservation of the ecosystems that sustain biodiversity.