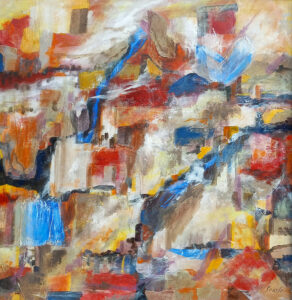 MARTHA FUQUAY SEARLE was born in North Carolina, growing up in a farming community near Raleigh. Following graduation from high school, she attended the University of Tennessee, Knoxville.
While completing her major studies in philosophy she did elective study in drawing and design. After graduating she continued art study in private classes in figure drawing in charcoal and pastel.
Moving to Albuquerque, New Mexico, in 1986 she began attending painting groups with live models and studied painting in acrylics and then in oils with several teachers from the University of New Mexico and the Harwood School.
Her paintings are abstract expressionist works with spiritual inference. Influenced by works of abstract expressionists Cezanne, De Kooning, Frankenthaler and the modern style of Morandi with inspiration from the music of Bach, Beethoven, Rachmaninoff, Grieg, Satie and Hovhaness.
A member of Rio Grande Art Association and the New Mexico Art League, she is an enthusiastic member of friendly critique groups as often as possible.