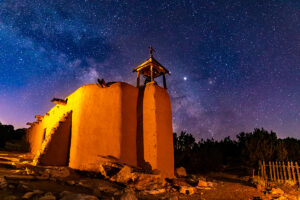 I am a retired accountant, a native of Las Vegas, NM, and a New Mexico Highlands University graduate. I worked for four different entities during my career, the last one for 28 years before my retirement in 2015. During my working days and now I volunteer or have volunteered with numerous organizations. Currently I am the volunteer photographer for El Rancho de las Golondrinas, a living history museum outside of Santa Fe. I was a volunteer photographer at a National Park Service site. My most interesting volunteer work was for the 352nd Fighter Group Association. (This was a group of WWII veterans made up of pilots and their support personnel. They flew P47 Thunderbolts and P51 Mustangs in the European theater.) I was their unofficial photographer/videographer and became their Treasurer for several years until the organization was disbanded due to the diminishing number of the WWII veterans.
My highest honors in my volunteer work were, being elevated from friends status to associate member and the Treasure of the 352nd FG Assoc., with the Park Service I was awarded the George and Helen Hartzog Award for Intermountain Region in 2014, and in 2016 I was selected volunteer of the year at El Rancho de las Golondrinas.
I started my self-taught photography adventure around 1982, took a break from serious photography from 1988 or so until about 2001. After getting back into photography I started taking photo trips, and in 2003 I started using it in my volunteer work. I also started showing my work at various shows sponsored by the two camera clubs I belonged too. My photographs have been used in newsletters, brochures, newspaper articles, magazine advertisements, notecards, magnets and even in a billboard advertisement.
In my photography I strive to capture the beauty God created in nature, the creations of mankind, and to document events in hopes of preserving them for future generations. Photography inspires me to travel to many beautiful places and has led to meeting many interesting people.