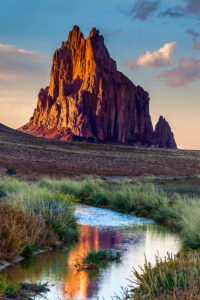 One of eight children, I am originally from outside of Buffalo, New York. My older brother built a darkroom in our basement, and watching him develop images from film was my first introduction to photography. And while photography was not my first career, it was among my first loves. I worked in communications/media for most of my career. I spent several years at WETA, the Washington, D.C. public television station before going to work for the PBS network itself. From there I spent nearly 19 years as an executive for an international media publishing company.
I share my photography passion with my husband. In 2013 we relocated to Placitas, New Mexico, to be closer to the areas we love to photograph. Together we love traveling to rugged, remote corners of the Southwest to camp and photograph in areas off the beaten path. Our dog, KodaChrome, tags along, too.
I am a past member of the Albuquerque Photographers' Gallery in Old Town Albuquerque. I've been a member of the Enchanted Lens Camera Club (ELCC) for many years, and have served as the Judges Selection Chairperson as well as serving as an exhibition and year-end judge. For many years, I served on the committee for the Annual New Mexico Photographic Show (ANMPAS) as well as Shades of Gray, the Southwest's premier black and white photography show.
A self-taught photographer, my work has appeared in numerous print and online publications, calendars and newspapers. My images have been displayed in many juried exhibitions, with several winning awards.
Artist Statement
I love finding the beauty in all things natural and man-made. I enjoy photographing landscapes mostly, but also wildlife, nature, urban settings and more. I have especially enjoyed photographing the wild horses in Placitas and the Southwest region.
My images feature an intimate style of rich colors, textures and contrasts as I convey the drama and mood of each moment and capture beautiful locations in the best possible light. More than just what the camera sees, what I present in an image is the result of what I felt in the moment of capturing a photograph. I love living in the shadow of the Sandia Mountains and having the whole Southwest as my canvas. I hope viewers find joy in my images and are inspired by them.